1. American Camp 2023: Introduction
1.1. General Introduction
Welcome to American Camp 2023 of ISA. This unique program is for those who love America; those who want to have "a taste" of the American lifestyle before deciding to study abroad; and those who want to spend a truly relaxing summer with their friends.
Participation requirements:
Students aged from 12 – 17 years old who are currently enrolled in grades 6th to 12th
Students at all English levels from Beginner to Intermediate
In this program, there are no requirements for a minimum level of English proficiency. Students just need to take a placement test to be scheduled with a native teacher.
1.2. Time, location, accommodation arrangement
– Time: 11/06/2023 – 01/07/2023
– Location: Pittsburgh, Pennsylvania; Youngstown, Ohio; Pennsylvania; Cleveland, Ohio; Niagara Falls; and Washington D.C.
– Accommodation: Hamilton Hall or Trinity Hall
– Meal: Students will be prepared for breakfast, lunch, and dinner. The food is well-prepared, hygienic, and served in a variety of tasty options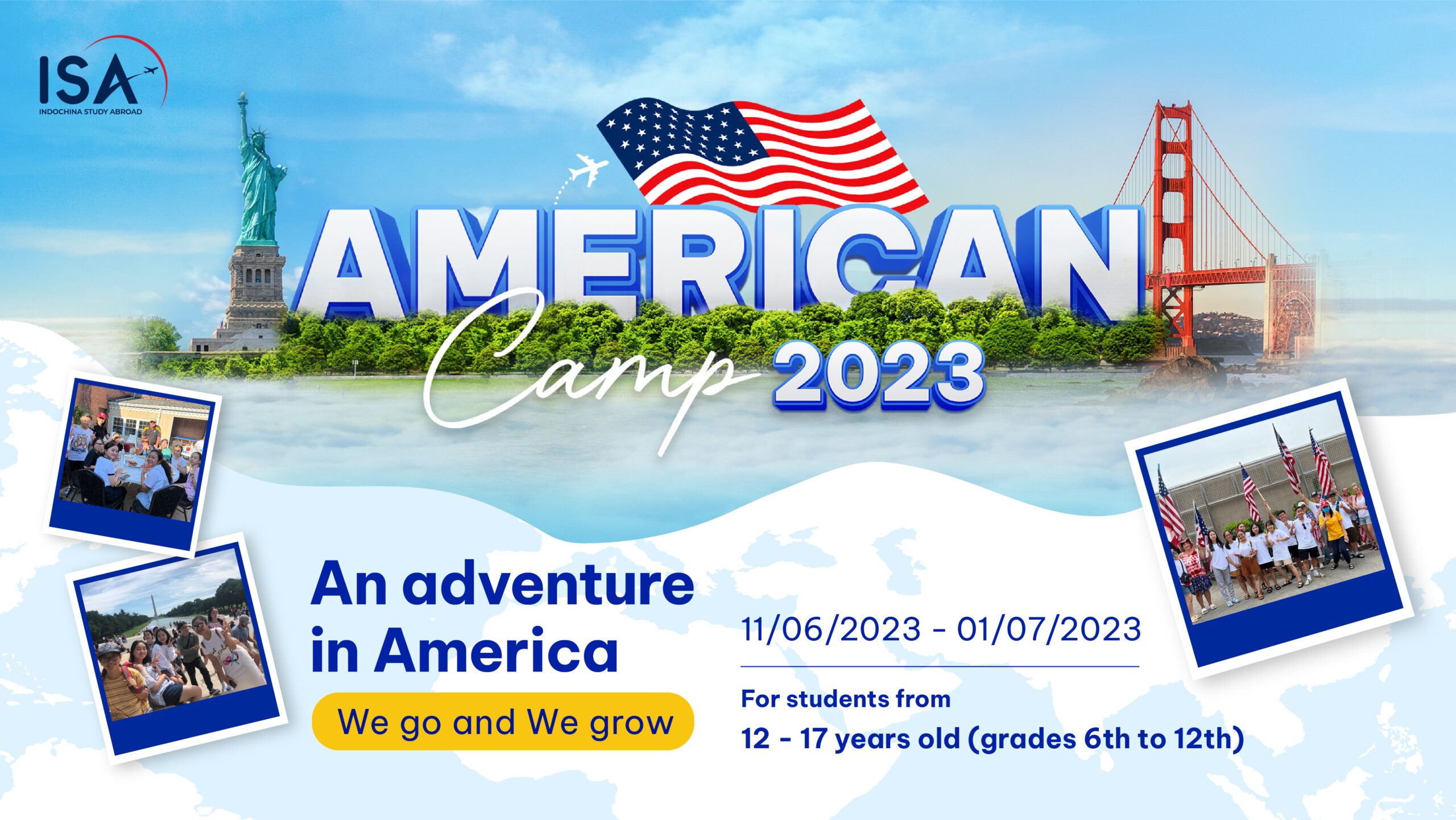 2. American Camp 2023: Benefits
The benefits of taking part in American Camp 2023 include:
Discover the United States from a New Angle: Students have the opportunity to study in one of the world's most developed educational systems, as well as travel, visit, and explore a beautiful and rich culture.
Add to your visa collection: Increase the chances of getting a student visa to study abroad in one of the most challenging countries to get a visa for. Students who participated in the summer study abroad program and who have visited the US will have far less difficulty getting their official student visa application accepted by the Consulate.
Visit many universities such as the University of Pittsburgh, Carnegie Mellon University, and famous landmarks of the United States such as the White House, Presque Isle, Grove City, etc.
Enhance English proficiency in academics and communication by studying English in a natural environment with native teachers and friends.
Ensure a high visa approval rate: With ISA's service and professional consultants, you will be helped from A to Z at every step of getting your documents and luggage ready to study in the US.
Receive assistance with flight ticket booking and transportation to the airport. ISA will assist the family in locating suitable and affordable airline tickets. The team will accompany you on both your outbound and return trips from Vietnam to the United States.
3. American Camp 2023: Fees and promotions
There are many different summer study abroad program prices available on the market today. If a parent is interested in the program, they can rest easy knowing that they have access to complete and detailed information about what is and isn't part of the package. Please call the hotline at 0938 938 748 or 0901 823 132 for more details.
More information: www.uscamp.duhocisa.edu.vn/en